Agoda is one of the major international hotel reservation website. In past, Agoda does not provide agoda coupon and promo code. But now, it release discount code (some people call it promo code or coupon) regularly.
In addition to the regular discount code released in Agoda website. There is a hidden 10% discount code that can be obtained by the method described. In this post I will sort out the latest Agoda promo codes and provide some tips and tricks for using them.
Agoda Promo Code
How to Get the Agoda 10% Discount Code Available for Global Hotels
Agoda began distributing a 10% discount code through special channels from one or two year ago. This 10% discount code can be used for the global hotels booking in Agoda. If you want to obtain and use this promo code, you need some tricks, otherwise you won't be able to use this 10% promo code even if you know the code. In order to obtain this 10% discount code, you need to enter the Agoda website through a specific link.
I. Agoda 10% Discount Code for Specific Cities
Agoda will distribute discount codes for five different cities on its Coupon Page, including a 10% discount code, a 8% discount code, and three 5% discount codes. There are no restrictions on the hotel's check-in time. But the coupon code has a certain period of use. The minimum period of use is usually one week and the maximum is two weeks. When the coupon code expires, It will release a new coupon code another city.
The following is the recent 5 coupon codes of Agoda:
Note: To use these discount codes, you must click the link above to go to the coupon page in Agoda website, and then copy the promo code, otherwise the field to input the promo code will not appear. The coupon code does not apply for "Pay at Hotels" and are not available for some hotel chain such as Holiday Inn, Hilton, Best Western, etc..
To use these coupon code, you must follow these steps:
1. [Get the coupon code] Go to the Coupon Page in website and click the city that you want to book a hotel room. Then click "copy" to copy the coupon code and click the "Search Properties" to search hotels.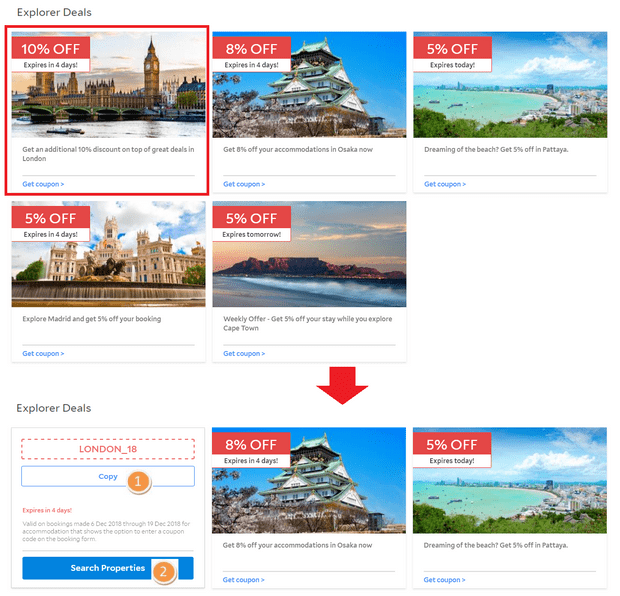 2. [Apply the coupon code] Select the number of room you want to book, then click on "Book now" to make a reservation. In the booking page, enter or paste the coupon code you just obtained, and then you will see the discount amount and the net price to pay. (Note: This coupon code can only be used immediately after you get it.)